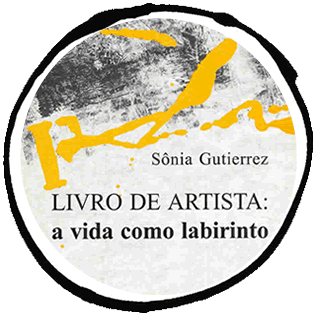 ARTIST'S BOOK: the live as labyrinth
(2001-2002)
"Artist's Book: The life as labyrinth"
Installation – installation – drawing,engraving,collage
15.09.2001 – Music and Fine Arts School of Paraná.
They say that was Daedalus, the Icarus's father who invented, answering the order of king of Crete, this original prison. In the centre, preserved by a number of false tracks, this surreal Minotaur, of unclear nature, ravenous, inclement, without another destiny unless Pasiphae, its mother, deceived, passionate, careless.
Theseus tries on this 'kill or die', the warrior, headed for his own cause. But he gets away. Helpful and passionate, Ariadne makes the thread and gives him the way.
Labyrinth Metaphor as much the inside as the outside that celebrates the strain of conquering the 'before' already inaccessible.
A conquer that ignores the brute force which focuses in the mental, the new idea, creative, organizer. Like the little stones of Hansel and Gretel. Or like the "step of 'You'", chinese labyrinthine dance, a symbol of supernatural, where the dance is a ritual.
As metonymy, by the borgesian geniality that makes the labyrinth into compass, into subversion of chronological time, from the reinvented space where to lose is to find, where the law is the transgression, in a conceptual identity with the definition of beauty for the surrealistic aesthetic, robbed from Lautréamont. In any event, whether by the metaphorical synthesis or by the metonymic misunderstanding, by the wideness which seems infinitely bigger is possible to drive through a point without dimension, but defined.
This point that all tracks are directed it is the cause along the journey. It is the constructed and reconstructed journey which creates the labyrinth's dimension and the possibility to escape from it.
The Ariadne's thread, here, It is that configures itself by repetition, on a meaning of meeting, of Aristotle tiquê, of chance like fortune.
Pay attention. Observe the Sônia's work. Take the route. Travel the way. Repeat. Watch what she does. Artist, she illustrates, paints, installs, teaches, researches, attacks, defends, appoints, reports, creates the fact, preserves, proves.
She is connected, so connected that she transits all information, materials, instruments.
She compiles, distributes, reinvents. She traces the drawing of being on the folds of time.
She turns the Snail Book into labyrinth (like she calls it) and reads the past with the eyes on present where she installs herself, inexorably, lining up the spectator's perspective to the new vision, the future perception that the aesthetic object creates on.
Anna Alice W. Pietruza