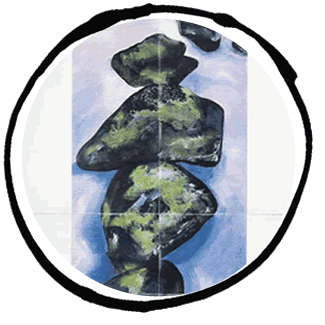 STONES
(1992-1993)
STONES
It is hidden on the stones
any mystery which does not depend us,
But exists when we look with cascade
eyes,
of sea or river, that passes above it.
Something very special, as the warmth which keeping
when falls the night, the wind blows and the body sunburned, feels cold on the breeze. See them, an aesthetic and deep pleasure that refers to the core of the explosion.
Touch them, the thrill that goes from the body to the spirit,
cherishing, warming, searching, finding.
Smooth, black, sexy, moss, velvet, shellfished,
spotted, painted, vivid embossing; big, small, polished by sea centuries of daytime nightime talking
Day-nighttime through lives civilizations.
Caravels and
Submarines breeding.
When my feet tread on you, revives all steps
Careful or "Not to your existence", to your correspondence.
to your warmth. Solid depths where I take shelter my fatigue,
Myself opening to a horizon three hundred and sixty degrees from sea.
My hands covering you aiming to read your history, your essence,
which is not inside.
A broken stone in two just unfolds the unattainable from itself.
A leaf that fall on you was expected.
As well as I feel when I lie down on you, when I look your shapes and find a million other, similar or been born there. From you. From the big stone to the grain.
Sônia Gutierrez
Cultural Support: OPTA ORIGINAIS GRÁFICO E EDITORA LTDA.
GHIGNONE CULTURAL SPACE – Curitiba – Paraná – Brasil